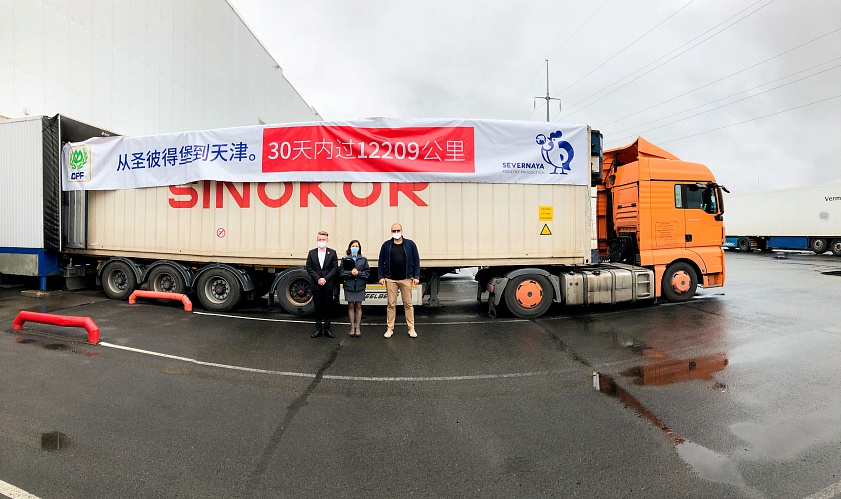 JSC "Poultry Production "Severnaya" successfully completed the first Express delivery of frozen export products to China in 29 days.
JSC "Poultry Production "Severnaya", in partnership with the logistics company "TEORA", in 29 calendar days successfully exported frozen chicken products to China on the route " Saint Petersburg-Moscow – Vladivostok-Busan(Republic of Korea) – Shenzhen (China)", a length of 14,500 km.

This export route this export route for frozen food products. It represents a multi-modal "cold" transportation that combines all three types of transport: motor transport, railway, and sea transportation.

"Sea transport is the most widely used for export cargo from Russia to China. As usual, the term of such logistics for us is 45-60 days. The loss of almost two months "on the road" is quite a significant factor that can have a negative impact during the export volume increasing and the sales geography expanding.
This year there has been already attempts to reduce delivery times using container trains "Agroexpress".
However, our new logistics scheme allowed us not only to reduce the delivery time similar to railway route, but also to keep the logistics costs at the level of the traditional "sea route" - said the General Director of JSC "Poultry Production "Severnaya" Buri Srina.

For the implementation of a joint large-scale project, JSC "Poultry Production "Severnaya" and LLC "TEORA" independently conducted large-scale preparatory work for collecting the necessary accompanying documentation and detailing the entire route. Part of the "cold" railway route relied only on the services of Russian contractors, including the TRANS-Siberian railway.

In 2020, JSC "Poultry Production "Severnaya", the leader of the North-Western region of Russia in the production of broiler chicken meat, was re-certified according to the new requirements for the export of frozen products to China and Vietnam. The company's management assesses this direction as a priority and strategically important, including the solving key tasks of the Russian Government to ensure the stable development of the country's agro-industrial complex. The company plans are to increase exports by 5 times in the end of 2020.