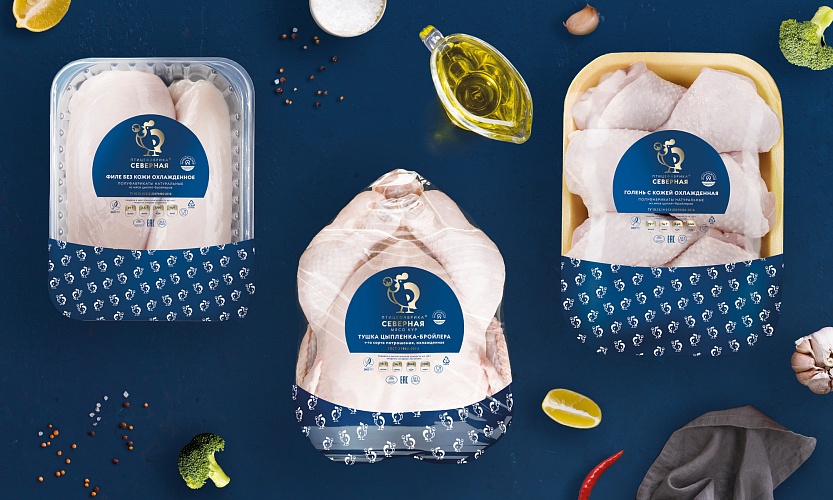 On December 15, 2020 JSC "Poultry Production "Severnaya" officially updated the logo and packaging of the consumer brand with the same name. It is the first such project for more than 20 years.
The logo has become minimalistic and strict, which emphasizes the character of the largest producer of broiler chickens in the Northwest region. At the same time, the new image preserves the continuity of meaning, form and color scheme from the previous logo.
"Cockerel, spinning the planet", came to the factory from the Netherlands from the first major investors, the family business "Agro-Invest Brinky B.V.", in 1997. It symbolized the desire of the new owners to build a broiler chicken meat production facility in Russia that would operate in accordance with Western poultry standards.
The entry in 2018 of JSC "Poultry Production "Severnaya" and JSC "Poultry Parent Stock Production "Woyskovitsy" into the Thai concern Charoen Pokphand Foods gave the logo a new meaning, as it opened access to CPF's extensive international knowledge base in the field of technology and innovation.
From that moment the strategic vector of development at the factories changed. The management systems, production technologies and corporate culture characteristic of the parent company began to be introduced.
The decision to rebrand was made at the end of 2019. An application for a new logo to Rospatent was sent in August 2019 and a registration certificate was received in March 2020. The new corporate website severnaya.ru, launched in August 2020, has already demonstrated serious intentions for changes.
External changes will support a new stage in the development of the enterprises of JSC "Poultry Production "Severnaya" and JSC "Poultry Parent Stock Production "Woyskovitsy".
From December 15, 2020, federal grocery chains and retail stores in St. Petersburg and the Leningrad Region began receiving products under the Severnaya Poultry Factory trademark in individual packaging in a new design. Also, products in new packaging can already be found in the poultry farm's own online store shop.severnaya.ru, where every resident of St. Petersburg and some districts of the Leningrad Region can purchase products directly from the factory with home delivery.
In December 2020 and January 2021, a large local advertising campaign will be held under the slogan "Chicken. The way it should be". The concept of communication is built on the grotesque comparison of visiting supermarket with a visiting museum. Choosing food items and comparing packages on a daily basis takes too much personal time. Therefore, JSC "Poultry Production "Severnaya" initially offers a product without GMOs, hormones and antibiotics in the transparent and minimalist packaging so that the choice can be made quickly and free time can be spend for something more significant - for example, art.
To enhance the local character of the manufacturer, instead of packaging products, Severnaya used paintings by contemporary St. Petersburg artists on advertising media. The rebranding will take about 2 years, because the updating of various corporate media and the actualization of information on the Internet will be made gradually.