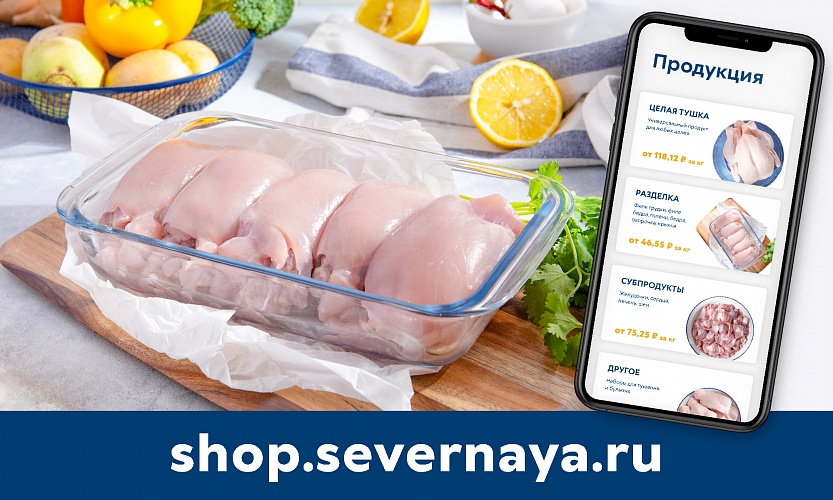 On December 4, 2020, JSC Poultry Production Severnaya presented an official online shop, where every resident of St. Petersburg and the Leningrad Region* will be able to order products directly from the factory with home delivery.
The new service will be especially relevant for family purchases of chicken meat for future use, helping the older generation, for connoisseurs of the products of the native region, for people living in the countryside or in remote areas of the Leningrad Region, as well as for the most economical ones.
The first significant advantage of the project for the local market is the extra-freshness of chilled poultry delivered to the buyer's address strictly on the day of slaughter. For this, it was developed a unique "direct" logistics scheme, which takes only a few hours. In this system, one car carries products from the production workshop to the customer's house without intercepting warehouses. This helps not only to reduce logistics time, but also to avoid temperature extremes
The biosecurity of transportation is also ensured by refrigerators built into the vehicle itself and by strict adherence to the temperature regime in them.
Direct trade from the manufacturer allows for the concept of "First Price", which means the exclusion of mark-ups from intermediaries, grocery stores and delivery services.
At the moment, the catalog of the company store includes 20 items of poultry meat products. They are divided into convenient categories - whole chicken carcasses, cut-ups, byproducts, broth and stew sets. Many items can be purchased both individually and in bulk packages of 5kg and 15kg. The assortment of the shop will be replenished, including with the unique products that are not available in retail chains.
You can view the assortment of the shop, the available promotions and buy chicken meat on website: shop.severnaya.ru
* the areas included in the delivery zone shop.severnaya.ru/delivery